2024 Vendor Information
*see application & staging map below*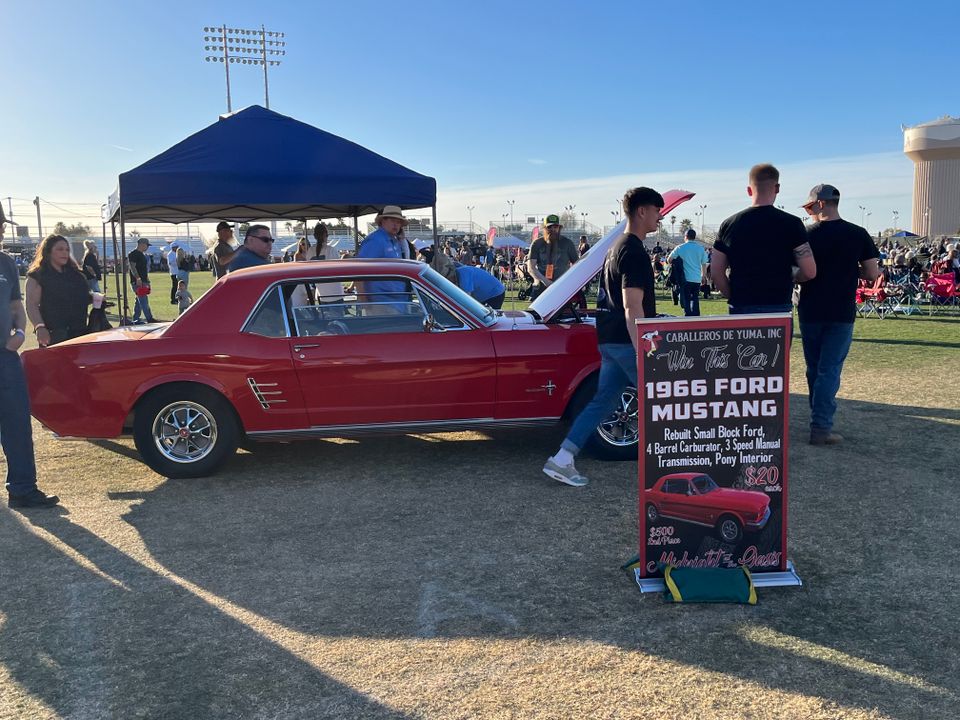 We invite you to participate in the annual Midnight at the Oasis Classic Car and Nostalgia Festival and sell your product(s). It will be held March 1-3, 2024 at the Ray Kroc Complex/Desert Sun Stadium, 3500 S. Avenue A in Yuma, AZ.

The festival opens to the public at noon, Friday, March 5. Vendor Applications can be downloaded from this page. Selling opportunities on Friday, Saturday and Sunday, as well as the set-up and tear-down times, are noted on the application.

MIDNIGHT AT THE OASIS is a nostalgia festival, featuring classic cars from 1979 and older, two nights of concerts and fun for the entire family.

In 2023, 900-plus classic car owners gathered in Yuma to show off their prized possessions to the more than 50,000 spectators that roamed over four regulation baseball fields that were formerly the Spring Training home of the San Diego Padres. The festival continues to be one of the premier events of its type in the Southwest.

MIDNIGHT AT THE OASIS is held in the beautiful grassy Desert Sun Stadium/Ray Kroc Complex and adjacent to the Yuma Civic Center, the Desert Hills Municipal Golf Course, and Caballeros Park.

VENDORS MUST SELL A PRODUCT ON PREMISES and are limited to sale of non-food items.

Please describe merchandise/service you will provide. YOU MUST ENCLOSE A PHOTO OF YOUR DISPLAY SETUP. The Caballeros de Yuma, Inc., reserves the right to restrict or prohibit sales or display of all merchandise.

"MIDNIGHT AT THE OASIS" is a registered trademark and may not be used without the written consent of the Caballeros de Yuma, Inc. Spaces are sold in 20 x 20 increments only.
No subletting or re-assigning allowed.

All merchandise and signage must be kept inside the assigned space.

Vendors must stay inside their space, those violating this rule will not be accepted in any future shows.
We encourage you to create a festive atmosphere by decorating your space with color and twinkle/small lights, etc.

Please return your application as soon as possible. You have a choice of "On the Main Field" or "Off the Main Field."

However, because of limited space on the Main Field, space will be assigned at the discretion of the MATO Vendor Committee.

Consideration will be given to vendor's previous participation in MATO and quality of operation, as well as date of receipt of Vendor Application in the office of the Caballeros de Yuma.

Payment in full & copies of liability & workers comp insurance must accompany application for consideration.
If you have questions, please let us know.